Hello, Dragon family! The Drama Dragons/Night Dragons classes have been going very well. The students are in the middle of a unit where they are required to create a set for a few scenes from the beloved classic, "The Princess Bride." We are learning all sorts of new things, such as spatial relationships and how to think like a director. The Thursday night class is open enrollment, so if you're interested in giving it a shot, just drop by and try us out! It's for ages 13+ (even adults are welcome to come and play!) For a one-night drop-in, it's only $10… and you don't to make a commitment! Just come and enjoy a night of improv and laughs! For more information, check out the Night Dragons page in the sidebar menu. Here's a few pictures:
Improv: Superheroes!
More Improv!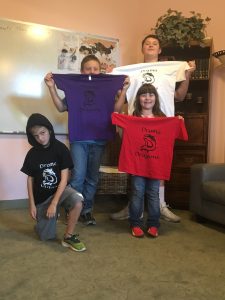 T-Shirt Posing with the Drama Dragons!